Your optician is required by law to issue you with a copy of your prescription. If you are not given a copy after your sight test simply ask for it. Remember, it's yours and you've paid for it!
Your prescription is valid for two years, unless otherwise stated. Don't worry if you can't read or understand your prescription, our fully qualified staff will be more than happy to do this for you. All we ask is for you to send a copy of your prescription when sending your frame.
And don't worry if you make a mistake when filling in our prescription form, we will only work off the opticians copy you send in.
Please find below some helpful information with regards to filling in the prescription part of our website.
1. What details do I enter with ref to a 'Near', 'Intermediate' or 'Distance' prescription?
If you are ordering bifocal lenses then enter measurements for all categories.
If you are ordering single vision lenses for reading or close up work then chose the 'near' line.
If you are ordering single vision lenses for seeing things far away then chose the 'distance' line.
If you are ordering single vision lenses for seeing things in between near and distance (eg computer screens) and for general use then chose the 'intermediate' line.
2. What if my prescription is outside the available range?
We handle very high prescriptions but some will be outside the available range. In this case, please email the prescription details to us at info@reglaze4u.com. We will investigate and get back to you to advise what we can do for you.
3. Can I use my contact lens prescription for ordering glasses?
A contact lens prescription could well look the same as one for glasses but there are usually differences – so no, you cannot use it. You must use a prescription less than 2 years old that was issued for use with glasses to be able to order from us.
4. What is and how do I determine my Pupilary distance (PD)?
The distance from the centre of one pupil (black spot in the middle of your eye) to the centre of your other pupil is your pupilary distance. Having a correct measurement for this improves the positioning of the lenses within your chosen frames. You can either:

Chose to use an average PD which is shown as '63' for distance vision and '60' for reading vision on the order form (this average has been determined by our dispensing opticians);
Obtain an exact PD from your optician or doctor – ideally ask your optician at the time of your eye test;
With the help of a friend measure it yourself in millimetres;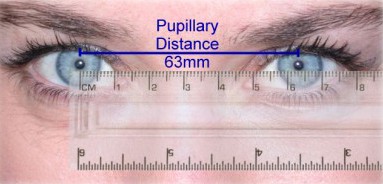 5. I cannot understand my prescription – what should I do?
If you're struggling to understand your prescription then please call us on 0116 367 6015 and we'll talk you through what you need to do.